You're having a Fourth of July picnic this year.
Your guests are asking what they can bring…
Perfect!
You now have the opportunity to throw a fun picnic, without a lot of hassle.
And with this handy July Fourth recipe guide, you can easily divide up the recipes among your guests, and ensure the entire picnic menu is a smashing success...
First up, homemade guacamole.  It's an easy starter, and when paired with salsa and chips, is one that everyone enjoys.
And for those guests who want to snack on something a little more interesting, this lemony shrimp and scallop cocktail appetizer is sure to satisfy.  It's light and tangy, and perfect for cooling down an otherwise hot afternoon.
Since it's already hot enough outside, there's no need to fire up the grill.  Instead serve up a delicious curry chicken salad, as well as some fresh crab salad, and pair with sliced pita, crackers and cut veggies for an easy and satisfying main course.
And finally, pull it all together with two amazing, interesting, and perfect-for-a-hot-summer-day salads.  First up the arugula and watermelon salad for the foodies in the group.  It may sound weird, but trust me, it's good.  And then second, the chopped wedge salad, which if you love a traditional wedge, will make you one extremely happy picnicker.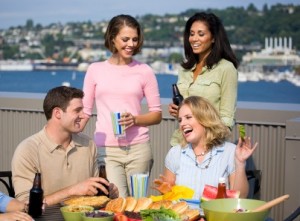 Each of these recipes on their own are amazing, and they'll be talked about for a long while … not to mention requested at picnics for years to come.
And since all of these recipes can be prepared in advance, don't require a lot of additional prep before serving, and most importantly, don't involve the grill, you can plan to kick back, relax, and enjoy the festivities with your guests.
Of course these recipes also have the potential to save the picnic in the event of a grilling mishap involving a slightly intoxicated grill master, too much lighter fluid, and some missing eyebrows.
(Yes, I speak from experience.)
So if you're hosting the Fourth of July  picnic this year, go ahead and tell your guests you'd love for them to bring something.  You have the perfect recipes for a low-stress picnic, that both you and your guests will enjoy.
Until our next meal,
Rebecca
P.S. Have a fun and safe Fourth of July!